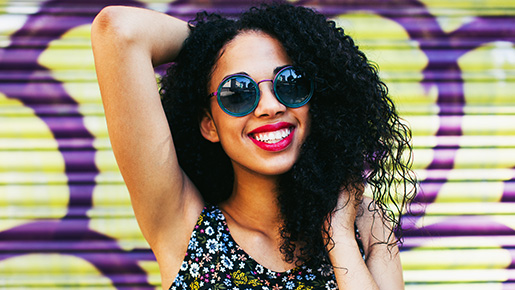 Summer is here
 
It's time to dial in your warm-weather style. Book with me now and get fresh for the new season.
 
Ladies Stop Loosing Your Hair! Best Affordable Hair Solution for your hair problem. We Supply Your Hair...All That & More Custom Protective Style Units is known for exceptional quality and dependability...With the highest quality hair available in any gorgeous style of your choice from classic styles to the latest trend-setting looks — All That & More Hair will empower you to take charge.... Be strong. Be beautiful. BE All That & More. Where Looking Good Is Understood & Where You Shine Even If The Sun Doesn't. View All Our Coupons Go to www.atmhairs.com Same Day Appointments Available call 678-663-5298
What we do: Hair Revitalization, Stimulate Faster Hair Growth Achieving Longer Stronger Healthy Hair & Edges. We are primarily accepting new clients who wish to achieve healthier hair with the help of Our Signature protective styling custom - hair weaves, extensions Lacefront Wigs No(Glue)Needed NoLeave(Out)Needed All(That)&More(Hair) Systems. We are most concerned with the health of your hair first, then the style. When you come in for a consultation, we will assess your hair to see what you may need during your Healthy Hair Makeover. We will also let you know if we feel that you are not a good candidate for a weave / extensions as well. Not everyone's hair is suitable for all types of#sewin #weaves, #wigs or hair #extensions. Let us know your budget? KiaStyles is focused on providing high-quality service and customer satisfaction - we will do everything we can to meet your expectations. With a variety of offerings to choose from, we're sure you'll be happy working with us 678-663-5298 ask 4 Kia Learn more+ View All Our Coupons www.atmhairs.com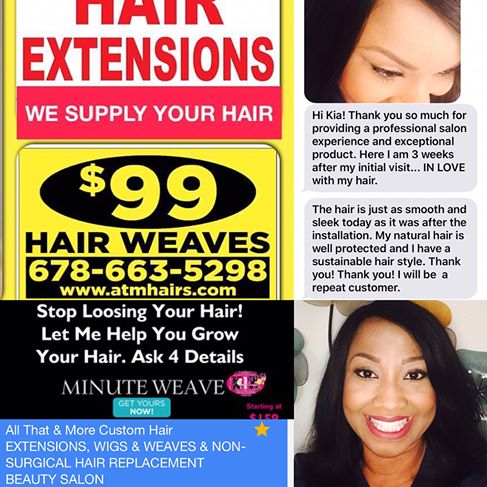 SUPER PROMO SALE!!!! SALE!!!! SALE!!!!
 
ONLY ON THE 1ST & 15TH OF EVERY MONTH
 
BUY ONE WIG OR 100% PERUVIAN & BRAZILLIAN HAIR BUNDLES @ REGULAR PRICE AND GET THE 2ND
 
50% OFF!!!!!!!
 
 
 
View Available Appointments or Book Now Call 678-663-5298 ask 4 Kia:).
/